No.13~St. Colomban~August 15, 2020
It's masks in the streets. Paris is declared an "active zone."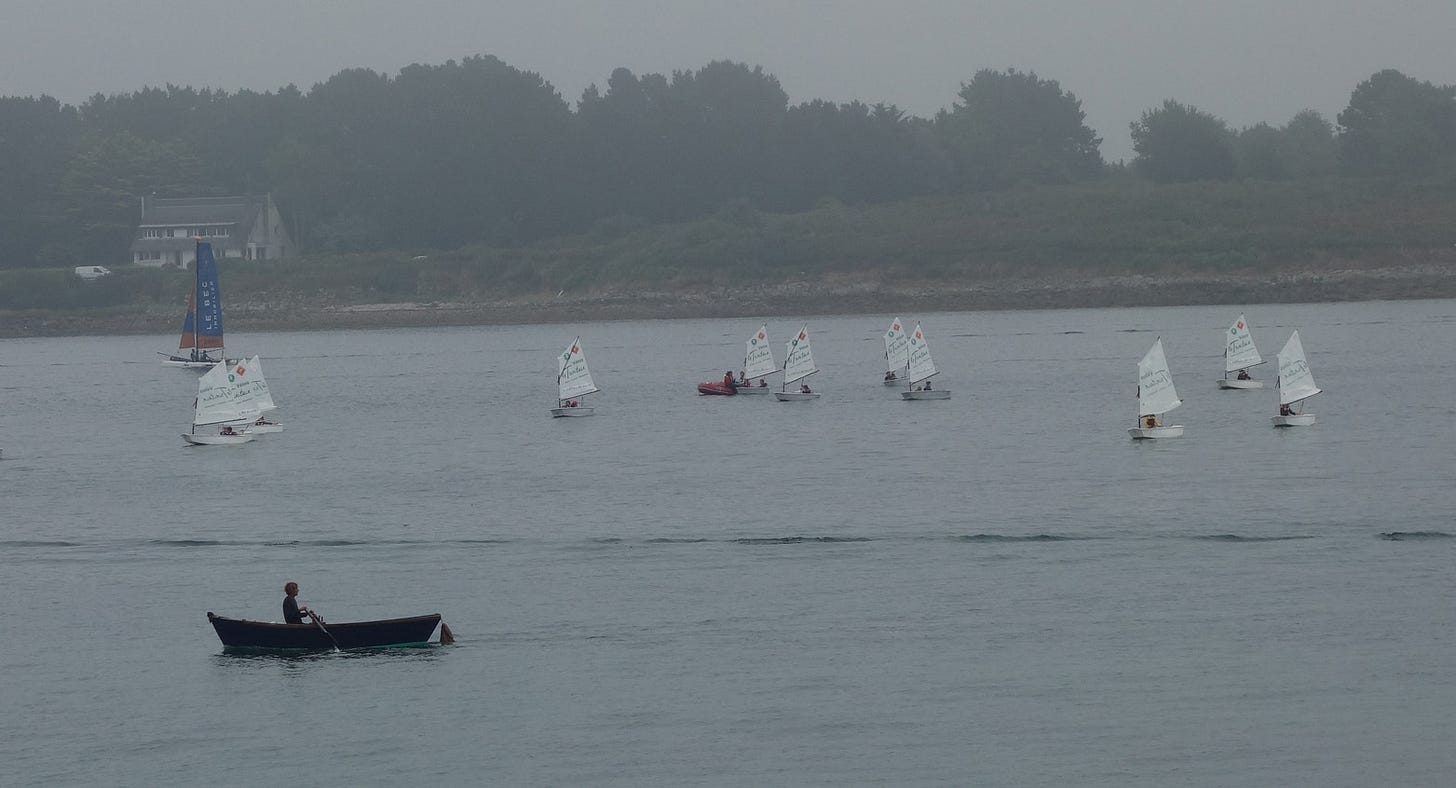 One of our favorite walks is in La Trinité-sur-mer, a tidy little port town on the Crac'h River just a short drive east of here. Our walk takes us along Le Chemin des Douaniers, the foot-trail customs officers used in the old days to reach their post at the mouth of the river.  Now it's a well-maintained path, part of a national coastal trail system. We walk along beaches and above cliffs, between the river and the spacious vacation homes that line the trail. Out in the river, tiny gaff-rigged sailboats called Optimistes flutter in the breeze, helmed by youngsters learning to sail.  
We've never felt the need to wear a mask there, but during our walk on Wednesday the 5th, I noticed a lot of other people were wearing them. Afterwards, we headed down a gentle slope into the small business district for lunch. Everyone was wearing a mask. And then there it was: the temporary sign standing in the middle of the sidewalk announcing that masks are mandatory. Rather than a reaction to an outbreak, the mayor says the measure is meant to reassure those who crowd the sidewalks.
La Trinité is not alone. Local municipalities across France are taking advantage of their power to control their own protocol. In most major cities, as of the first Monday of August, a mask is required if you're walking around in a busy area. 
And now Paris has joined the crowd. As of last Monday, masks are required in busy outdoor settings in the capital. The mandate for masks inside public places, originally announced for August 1, was pushed up to July 20. Now France has mask requirements outside, too.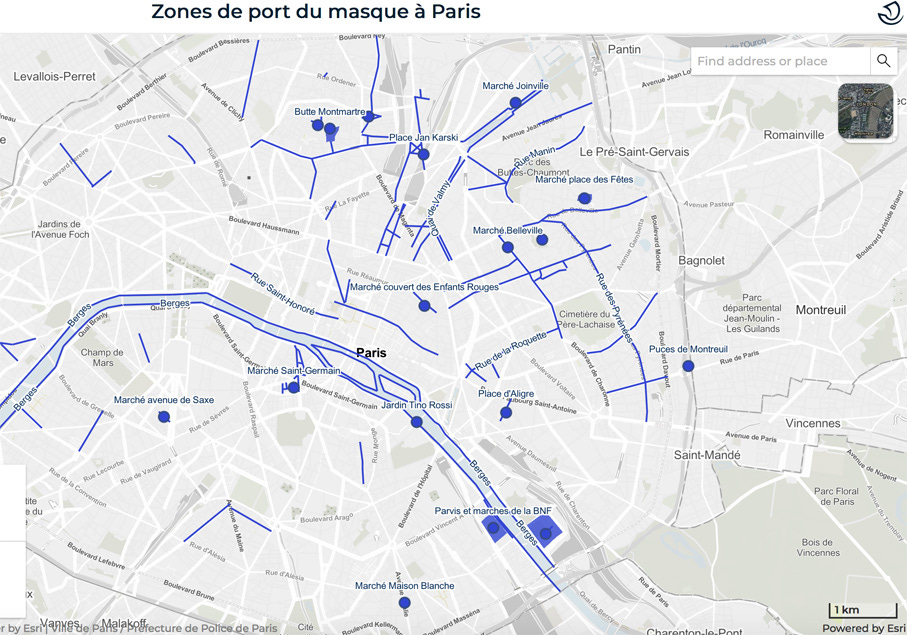 The Paris police department has published a list of 105 streets where a mask is required. The list includes the popular quais along the Seine — the riverbank thoroughfares often crowded with walkers, joggers, and bikers. We expect to return to Paris next month, in hopes of setting the stage for our return to the U.S. around October 1. And now we wonder if it will feel a bit like confinement all over again, when Les quais were completely closed. In normal times in Paris we walk along the river almost every day. The mask requirement will send us off in a different direction. 
The rue Cler market street in the 7th arrondissement is also on the list, as is the twice-weekly open market on Avenue de Saxe. 
Even gloomier news broke yesterday. Paris was declared an "active zone" for the transmission of the virus. Public health officials had already established two thresholds for action: 10 new cases per 100,000 inhabitants per week, and 50 new cases per 100,000. Paris is running an average of 65.
The designation gives police and the mayor authority to impose confinement-style measures. No action has been taken yet, but the possibility looms that bars and restaurants could be closed, or at least have their hours restricted. Open markets could be closed again. And the newspaper Liberation reported that the 100 kilometer limit on travel could come back — the restriction that had us wondering in May if we would be able to come to Brittany.
The spike in infections was first reported a couple of weeks ago. Approximately half of those testing positive are young people with mild symptoms. So far, there has not been a corresponding increase in hospitalizations. 
Compared to the U.S., it's easier for the French to keep track of infections because of dramatic improvements in testing. Back in May, a patient had to have symptoms and a prescription for a test. Now there are walk-in centers where the only requirement is a desire to be tested. Results often come back in about 24 hours. The French track-and-trace system has identified many of those recently testing positive. Nationwide, there are about 370 patients in intensive care. 
In a recent interview, Antoine Flahault, director of the Institute of Global Health at the University of Geneva, had this advice: "The best policy is to test a lot. That way you trigger the anxiety of the population and individual responsibility."  
This jibes with a conversation I had recently during a cocktail party here in the village. I asked a vacationing general practitioner why there has not been more resistance among the French — who are tireless protesters — to mask mandates. He said he thinks it's because they're afraid. 
Whatever the reason, there is a lot of support for "le porte du masque obligatoire." According to a YouGov survey conducted for HuffPost.fr at the beginning of August, 84% responded "Oui" when asked if they would wear a mask outside. Those in President Emmanuel Macron's party responded positively at the rate of 94%. Some background noise is coming from a small but growing movement on French social media against required masks. A Facebook page based in France, called "Against Mandatory Masks" has 1,900 members. But in France the mask has not yet become a political symbol as it has in the U.S. During his trip this week to Beirut, Lebanon, Macron admitted to the French that they will have to "get used to wearing masks." It appears the wearers will overcome.   
When we talked to our son, who lives in Paris, about the "mask map" of the city, he noticed that the map does not require masks in popular tourist areas like the Champs-Elysées. This may be because there aren't many tourists. We've heard that now is the best time ever to visit the Louvre, because it's virtually empty. Americans are still on the European Union's "no entry" list. And, curiously, France has been given a Level 3 warning by the U.S. State Department, which means that travel should be "reconsidered." 
The French have provided an exception to their "no entry" list. According to a HuffPost.fr article on August 2, entry will be allowed to American residents who hold a French passport, or who can prove ownership of a residence in France. For those who manage to get through the red tape, there is now a testing program at both airports — Roissy and Orly — for passengers arriving from the 16 countries France considers "at risk." American passengers who cannot provide proof of a recent negative test result are subject to being tested at the airport. When tested, they agree to enter the contact tracing program if the result is positive, but otherwise they can continue with their travel plans. 
Finally, in my July 18 post, I talked about how Brittany had been declared a "red" zone. It is no longer red, but there have been outbreaks of infection. The one people talk about the most has been in the nearby town of Quiberon, where spread of the virus has been linked almost entirely to young people who were frequenting bars and then, at closing time, continuing to party on the beaches. The city's beaches were promptly closed for night-time use, and one bar was singled out for closure after tracing showed it to be the source of most infections. 
In mid-May, just after confinement ended and when Isabelle and I came to Brittany, the "R" factor for France was 0.6. Now it's at about 1.3. 
It's as if in May, we tucked ourselves into an Optimiste, and for nearly three months we've been tacking into a gentle breeze. Now a gusty wind is kicking up a chop, and it's time to duck our heads, come about, and head for safe harbor. It's a wind we will have to get used to.
———————
Photo: On a foggy morning in La Trinité, Optimiste sailors hope for a whisper of wind. JK photo.
———————
Map Credit: https://capgeo.sig.paris.fr/Apps/ZonesMasque/
———————
Free sign-up at joekelley.substack.com