No.11 ~ St. Colomban ~ July 18, 2020
Brittany has turned red. Let me explain.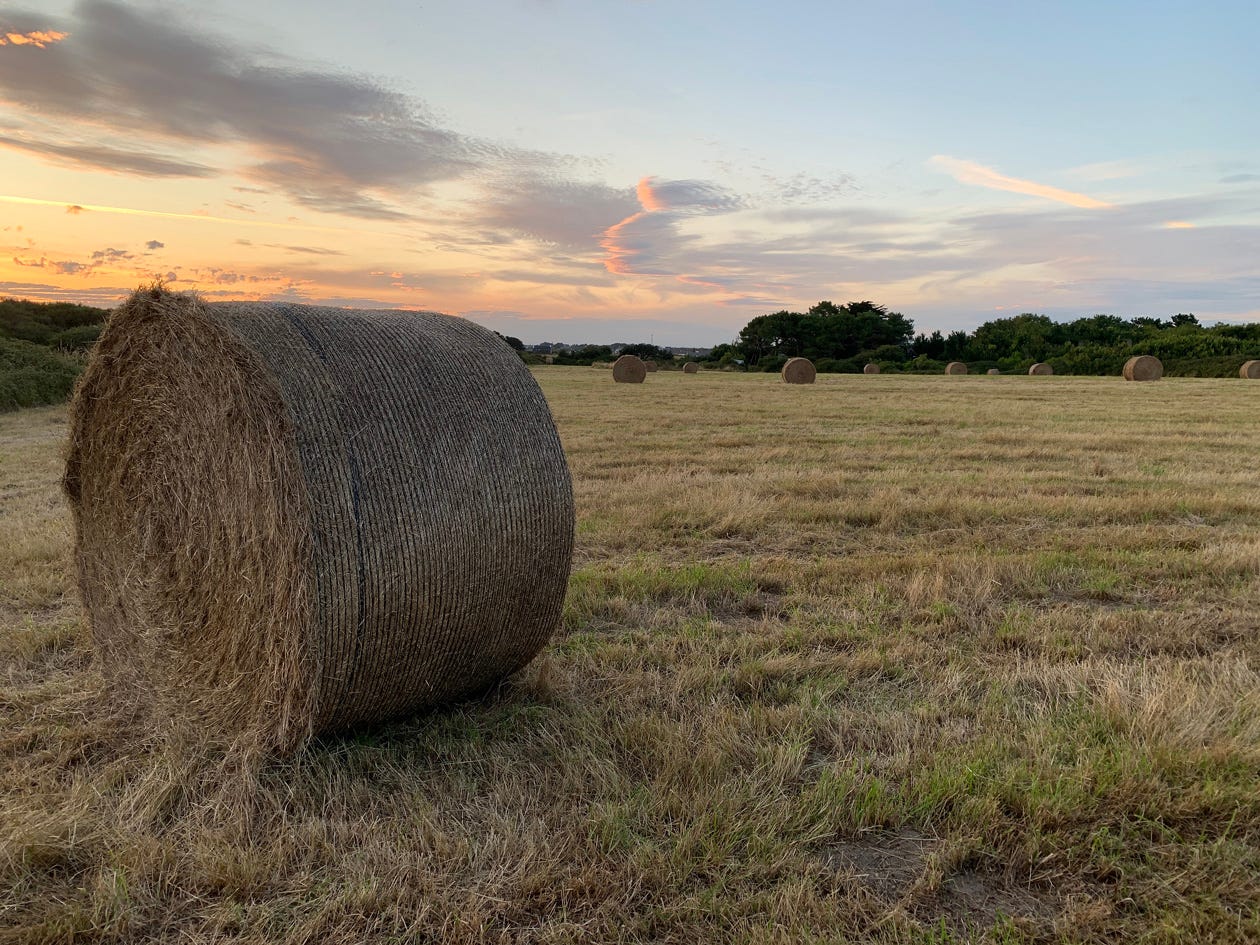 Shutters are swinging open on summer homes and vacationers are filling the beaches. After a damp, chilly stretch earlier in the month, we're back to beautiful summer weather, sitting in the yard, imagining how the fresh sea breeze is blowing the germs away. We've been content in our complacency.
Until yesterday, when Brittany was declared "red" by the public health ministry. That's as bad as it gets on France's danger scale for Covid-19. The sudden rise in infections corresponds closely with the busy weekend we just saw here for the Bastille Day holiday. From the 10th to the 14th, the dreaded "R" factor for Brittany leaped from a safe .92 to an eye-brow raising 2.62. Only one other region, La Provence, is red at this time, but their R is 1.55. The national average for the R factor is 1.18.
The increased spread of the virus seemed abrupt, but there have been signs of trouble brewing.
On July 10, I read that the public health agency, in its weekly report, had sounded an alarm that indicators were headed in the wrong direction. The R factor had risen above 1. That had me wondering.
Then came news that just 140 miles from here, the department of La Mayenne exceeded the government's safety threshold of 50 new cases per 100,000 population, based on those testing positive over a period of seven days. Public health officials will now launch a program to test the 300,000 people over ten years old who live in the department.
 A village cocktail party had been planned for this evening. It would have been outside, but was nevertheless cancelled by Carnac's city government. We are missing a chance to catch up with our neighbors and maybe make new acquaintances. The threat of the virus is hitting home.
 There is no talk of a return to lockdown. After the news broke about Brittany "turning red" in Ouest France, the region's daily newspaper, the public health agency issued a statement couching the news in calmer language. The situation in Brittany is "not alarming," the agency said, noting that the R factor can be increased by clusters of viral spread and not necessarily by a broad increase in infections. In fact, the spread of the virus in Brittany is occurring at the rate of 2.8 cases per 100,000, less than the national average of 4.3. In the past week, there have been five new cases in the department where we are, Morbihan. 
It's hoped that any surge in infections can be calmed down with more responsible mask wearing. President Emmanuel Macron announced in his televised Bastille Day interview that, starting August 1, masks will be obligatory inside public places. So instead of being recommended, masks will be required in places like shopping centers, schools and universities, churches, and movie theaters. Office buildings and factories that are not open to the public will not be affected by the new ruling. 
So whether Brittany's change in status is a statistical anomaly or not, the news amounts to a wake-up call, corresponding with Macron's new mask rule. And Macron is certainly reacting to data that indicate a risk of a second wave. I expect we will no longer see, as we have on occasion, a waitperson weaving through tables and taking orders wearing their mask below their chin. In the grocery store where we do most of our shopping, mask wearing has become more the exception than the rule. That will change, too. 
Up until 24 hours ago, feeling safely tucked away here in Brittany, I was working on a different article for today's post — it was going to be something about how, when a few sunny days run together, round hay bales populate the fields, signifying summer. About how the moon in its waning gibbous, with its expanding shadow, signifies... something else. Now we know what that is. We just have to read the news. 
Number Box

From Worldometer for July 16, daily new cases:
Florida, 11,865, with a population of 21 million
France, 535, with a population of 67 million

From today's New York Times:
In the U.S., a state is declared "red" when new cases exceed 100 per 100,000 per week
———————
At sunset, a hay field near St. Colomban Village. JK photo.
———————
Free sign-up at joekelley.substack.com