No.17 ~ Paris ~ October 10, 2020
A taste of masked living, and then it's Boston or bust.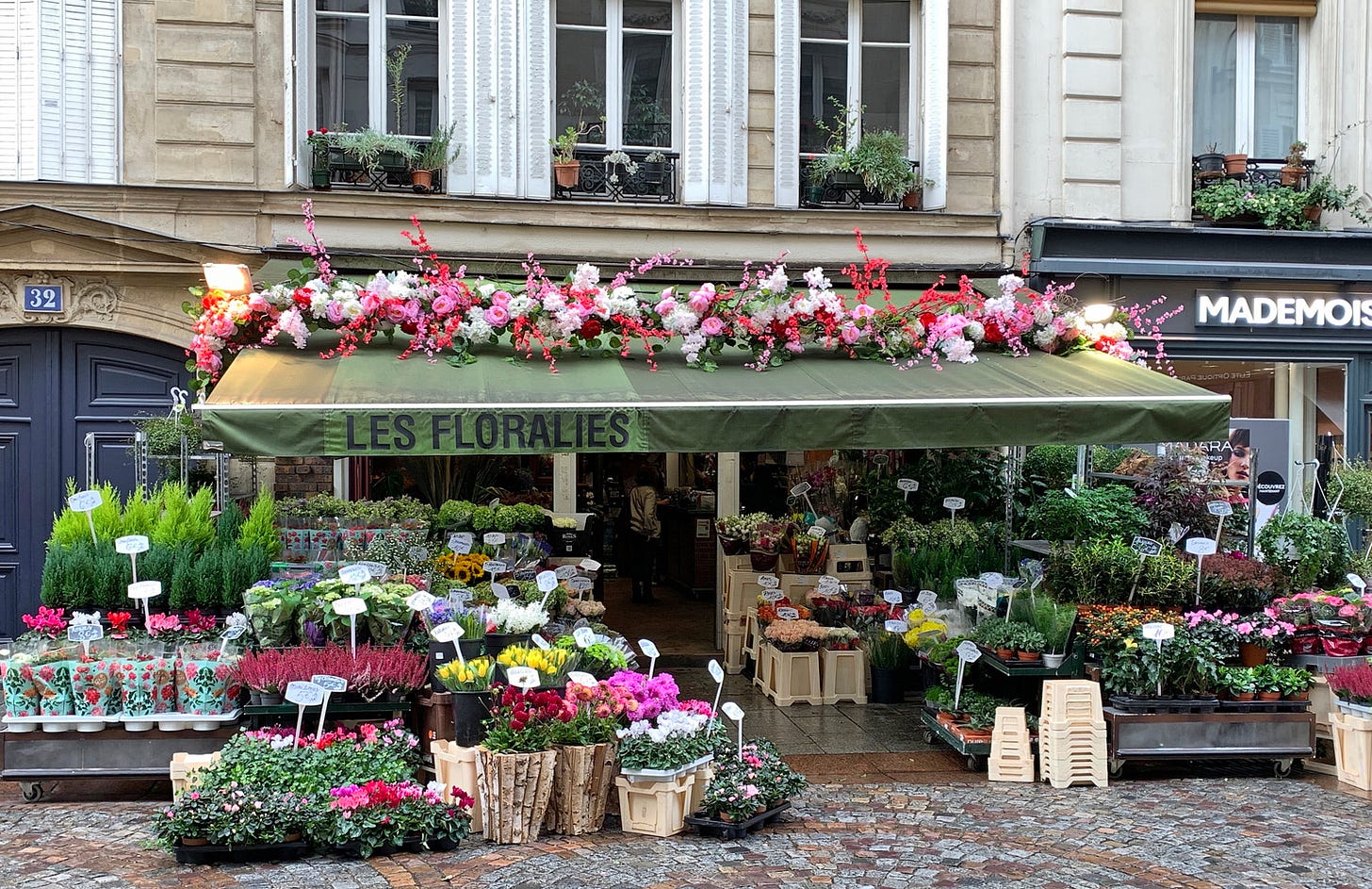 On the train to Paris, I raised my head from a cat nap to see the train's speed flashed on a screen at the end of the car. Before I could do the math, to convert kilometers per hour to miles, the answer appeared. At a smooth 196 miles per hour, we were headed away from the safe and rural department of Morbihan to a city center, where as the French say, the virus is "actively circulating."
As the train pulled into Montparnasse station, we knew we would find Parisians going about their business more or less as usual. Except now they would be wearing masks, reminding us how the virus is floating about — mindless, invisible, remarkably efficient. 
After our first night in Paris, we awoke on Friday, October 2nd to see that President Trump had tested positive. Trump and his associates manage to spread increasing levels of chaos, and at the beginning of the weekend news of Trump's diagnosis dominated the French press. After hints on Sunday, though, Paris authorities announced on Monday that the French capital was no longer a red zone. Instead they colored it scarlet — a zone of "maximum alert." New restrictions, which started Tuesday, include the complete closing of bars for two weeks, as well as capacity limits for shopping centers and department stores. (The capacity limit is one client per four square meters, or about 40 sq. ft. On a recent visit to the IKEA store near Madeleine, I noticed an employee stationed so he could see all of the store's several entrances. He appeared to have a counter in his hand.) 
The government threatened to close restaurants and cafés as well, but the restaurant association negotiated a reprieve based on a new protocol. There is the specification that chairs (not tables) between different groups have to be one meter apart. No more than six can be seated at the same table. And clients will be asked to sign a guest book, so they can be reached in the event contract tracing is initiated. 
We had already seen changes in the restaurant scene on our walks around the neighborhood. Some have renovated their interiors or façades. The big change is the expansion of tables out onto the sidewalks and into the streets. Tables occupy street space that used to be for parking. I'm sure restaurateurs had little trouble getting permission from Paris's mayor, Anne Hidalgo, who is famous — some would say notorious — for discouraging the use of cars in the city. 
It's obvious how budgets vary to dress up the new outdoor spaces. Some have handsome wood decks and curtains, while others use shipping pallets to separate the tables from the traffic. These outside spaces must have bustled with chatty Parisians in the warmth of summer, but now the rain and chill are setting in. Even though some restaurants will continue to use space heaters outside, which have environmentalists up in arms, many of the new outdoor spaces are not equipped for heating. I'm sure the cost is prohibitive for the smaller establishments.
The city government and health officials were forced into this quasi-lockdown by a stampeding second wave of coronavirus infections. Admirably, France has dramatically expanded its testing infrastructure. Still, at over one million tests a week, it sometimes appears to be at the point of bursting. Parisians complain that results can take five days to come in. As in other countries, the increasing positivity rates cannot be explained away by the increased testing. At the beginning of September, the positive test rate was 4.5%. Now it's over 9%. 
Some experts are calling for more focus on hospital use and less on case counting, but in France that data does not portend well. If new patients keep taking up ICU beds at the current rate, France's capacity could soon be overwhelmed.
As we have seen all too dramatically in the U.S., reducing transmission always goes back to mask wearing. Our two-week stopover in Paris is our first experience living in a "masked city." Just as the French have a myriad of ways to wrap a scarf around a neck, they have found a variety of ways to hang a mask across a face — or not. Maybe this is similar to what's happening in the U.S. I haven't done an actual count, but I wouldn't be surprised to find that at least a third of the Parisians we see in the streets and stores here in the seventh arrondissement are sporting the mask-below-the-nose look. In Brittany, where masks were not universally required in the streets, the hanging-from-one-ear look was just becoming fashionable when all the vacationers went home. We don't see that look in fashionable Paris, but below-the-chin is definitely popular. And I'm intrigued by the unspoken exemption granted to smokers, who stand unmasked in the street enjoying a cigarette while non-smokers who walk by are expected to have their masks on. 
I, too, have been struggling with mask-wearing. When we're down by the river, walking along les quais, and there's no one within 100 feet, I've been known to take off my mask for a breath of fresh air. Yesterday, as we got up near the street, I forgot to put it back on. So my days of trespass may be nearing an end. 
Our stay in Paris is nearing an end, too, so we've been working on the requirements for our trip. In an email, Air France said we would have to be tested with the result obtained no earlier than 72 hours before our arrival in Boston. But the email referred me, ultimately, to the requirements for Massachusetts, our destination. The state's requirement sounds more realistic: the sample should be taken (not the result obtained) within 72 hours of arrival. 
After some frustration with the nearest lab, where they do not post up-to-date open hours, do not answer the phone, and do not have an outgoing message when you call, we've learned that we can be tested in Neuilly on Sunday, a leafy suburb just a Métro ride away. We should have the results before we leave Paris.  
When we were packing up to leave Brittany, I found a hand-written Attestation we had used as permission to go out into the streets of Paris during confinement. It's a souvenir of those 55 days in lockdown, when kids could ride their scooters down the middle of empty streets. As we walk around Paris now, our faces covered and our glasses steamed up, we feel sentimental about those spring days when the city was quiet and sunny and you couldn't even buy a mask. Back then, it was all about keeping our distance. We're lucky we didn't get sick, running around for weeks with naked faces. 
I never thought I would write this, but we feel lucky, too, to be on our way out of Paris and headed back to the U.S. Even with mask wearing requirements in place, the virus is taking the upper hand here. The city's center, in this time of Covid, no longer feels like a good place to be. 
New England is starting its struggle with a second wave, but there we will be able to hop in the car and go for a walk in the woods. As we walk around Walden Pond, and then — after looking both ways — cross the railroad tracks to retrace a circular path we know in the woods beyond, I'm sure the fall foliage will remind me of the chestnut trees along the Seine, looking in these early October days like rusty metal filigrees. I'll be reminded, too, of the plane trees that frame the avenue de Saxe marketplace, where we walked nearly every morning of confinement. There the leaves are fading to a tawny, tired green. 
———————
Photo: Florist shop on rue Cler, a market street in the 7th arrondissement. JK photo. 
———————
Free sign-up at joekelley.substack.com