No. 8 ~ St. Colomban ~ June 6, 2020
"Retracing your steps until you know..." *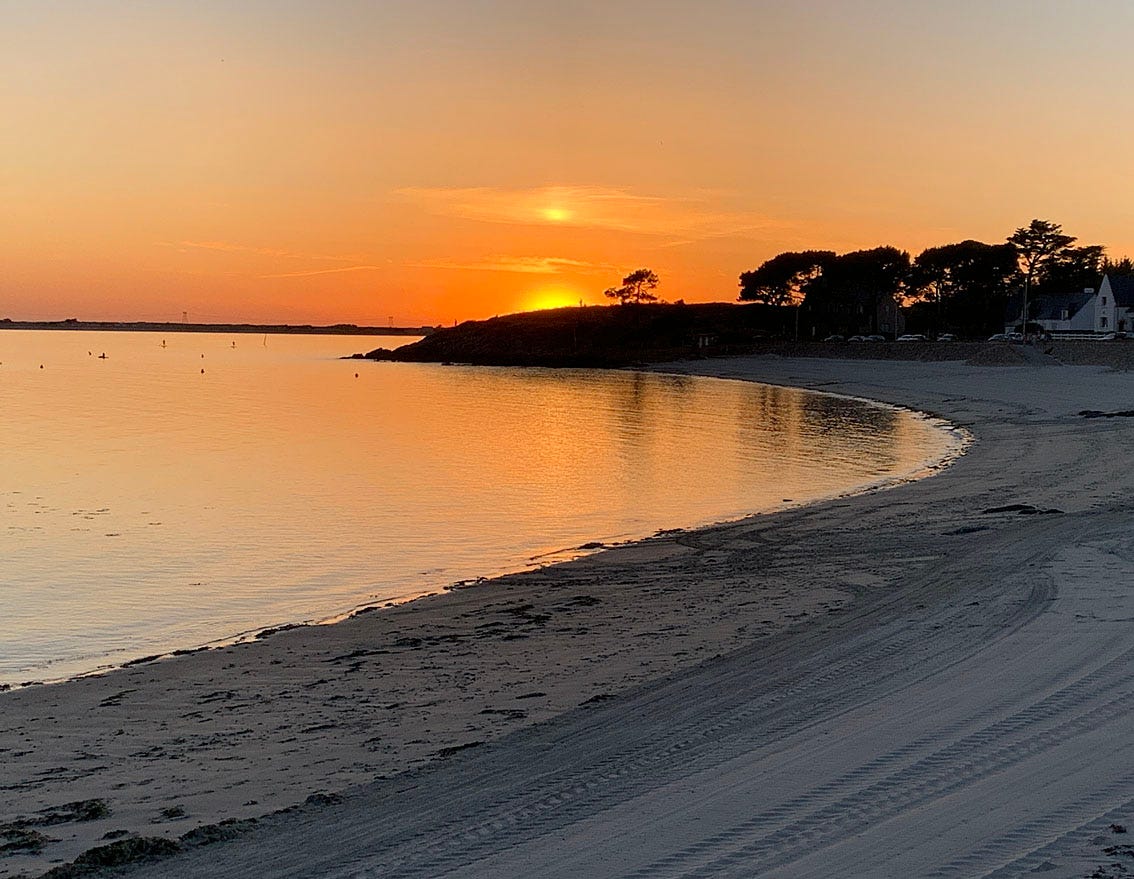 There is a rhythm of life here that takes some getting used to at first. Far from the city's noise and possibilities, time loses its accustomed shape. We spend less time watching the clock and more time paying attention to the coming and going of the tide and the sun's traverse across the sky.
Toward the end of our after-dinner walk on Tuesday, the sun was going down over St. Colomban Beach when I heard that once familiar boisterous sound of a busy café, coming from a side street. It was a sound we had not heard for months. We took a short detour to check it out. 
In front of the easy-to-miss restaurant, now finally open for the season, there was cause for celebration. Tuesday was June 2, the first day of Phase 2 of France's reopening, and the first day since mid-March when restaurants could have clients sitting down rather than taking out.
Tables were set up along both sides of the narrow street, entirely willy-nilly, with little concern about whether they were in front of the restaurant, and not necessarily one meter apart, as mandated. The tiny metal tables were topped with pints of beer and glasses of wine. It was going on 10pm. Physical distancing seemed like a forgotten nightmare. 
In plague time, in Trump time, after so much time in confinement, all that mattered was for everyone to be smiling and talking at the same time. It was a young crowd. We didn't join them, but I felt released from a tension I had hardly known was there whenever I had walked by a closed restaurant. 
 A few days earlier, before Phase 2 had been officially announced, we were walking around the center of Carnac when we noticed that the door was open at a well-known pizzeria, and we stopped to glance inside. The owner invited us to come in for a tour. Of course the place was still closed and a bit topsy-turvy, as he was doing some repair work. Underneath his black hair, his long face easily turned up a smile. He was slight of build. I can be sure of this, because he was not wearing a shirt. His blue jeans were torn at the knee.
Eager to talk about what it's been like for a French restaurant owner during lockdown, and what the new protocol will be, he showed off the interior open-air "garden," with its outdoor seating, trees and strings of lights. This, he hopes, will save him, because customers will feel more at ease sitting outside in the fresh air. He's also fortunate to have two front doors, because people will have to enter through one door and exit from another. A mask will be required for walking in and walking out, and for a trip to the WC. Tables will be equipped with hand sanitizer. Staff will be masked, including him, even when he's working in front of his 400 degree (Celsius) pizza oven. And he's asthmatic! In high season he usually serves 300 people a day. Now he's hoping for 100. 
I asked him if he had been helped by the government. He looked me in the eye, incredulous, worried, desperate. He said he had received €1,500. In his case, a token amount that had no relationship to his losses. 
There are about 150,000 restaurants in France closed for the crisis. It's as if they have been sitting at a figurative stoplight, one foot on the brake and the other hovering over the accelerator. 
"On attend le feu vert," the pizzeria owner said. Just waiting for the green light.
That go-ahead came on Thursday, May 28, when Prime Minister Eduoard Philippe and agency ministers on his response team presented the details for the second phase of deconfinement. 
"The results," Philippe announced with a smile, "are better than expected."
France is moving into its second phase of reopening with a positive test rate of six per 100,000 people, and the famous "R0" value that measures the extent of infection spread is less than one, nationwide. 
So the major changes the French have been hankering for came about this week. The 100km limit I wrote anxiously about in previous posts is now history. We're free, as they say, to move about the country. While decisions will be made later this month about opening the country's borders, the French are being encouraged to vacation in the "Bleu, Blanc et Rouge" (the colors of French flag, blue, white, and red) — to enjoy their own country, support its economy, and hold down the risk of viral spread around Europe.
All this may sound like too much good news as peaceful protesters in the U.S., and around the world, put physical distancing aside to keep police violence and racial inequality at top of mind. There is the smoldering, too — the pointless fires and destruction caused by those the French would call Les Casseurs, people who break things. That's where Trump wants the focus, on the breaking rather than the peaceful calls for reform. 
Protesters "par excellence," known for filling the streets at the slightest provocation, the French made no objection to mask wearing, as we have seen in the U.S. But this week protests did break out in Paris, as the 2016 death of Adama Traoré, a young French black man, was compared to that of George Floyd. 
President Emmanuel Macron and Philippe's government continues to be criticized for its handling of the Covid crisis. There was the clumsy inattention in January and February when anxious briefings by health experts were ignored. The consequences were soon felt in Carnac, when an outbreak of infections in February was only slowly identified as Covid-19, because local physicians were still in the dark about the virus, without any guidance from the top of the healthcare system. Healthcare workers in France were crying out for reform of the system even before the crisis. 
Watching from here, all this news loses its accustomed shape just as the time does. It's easy to forget about the virus, and hard to believe that what's happening in the U.S. is real. 
My hope is with the peaceful protesters. As they walk American streets, even with so much working against them, they will help retrace the steps back to unity.
---
* from Failure, by Kings of Convenience. Part of that song from their 2000 self-titled album goes like this:
Failure is always the best way to learn,
Retracing your steps until you know,
Have no fear, your wounds will heal.
---
On May 29, the sun set over St. Colomban Beach at 10:00 pm. The beach was still closed. Beach grooming had started, and Carnac opened its beaches on June 2. JK photo.
---
Free sign-up at joekelley.substack.com